About me
I am a stage artist and practice and teach the Alexander Technique.
I met the Alexander Technique in 2001 during my acting training in Athens. The detailed body experience impressed me immediately. Her supportive power in dealing with pressure left a lasting mark on me. During difficult life events and constant revision, the Alexander Technique helped me to keep the orientation for the essentials in my life. Continuously I learned to be more balanced and to deal with myself in a more free way.
After my return to Berlin in 2010, I completed my training as a teacher in the school of Dan Armon and together with Maike Koch founded the Simio, Studio for Alexander Technique in Schöneberg.
Since 2013, I have been dedicated to dance on stage, inspired by Butoh. In particular, I was influenced by the dance and work of Masaki Iwana. I work and train among others with Masaki Iwana, Moeno Wakamatsu, Flavia Ghisalberti and Marina Epp.
The body as an instrument of perception and as a means of expression, which carries the spirit in and around itself, its infinite depth; the body that is our connection with nature, our own nature, is important content for me. Together with Marina Epp, we created the Butoh Labor Berlin in 2014, a platform for exploring the language of the body on stage.
'Existing, being present! To show oneself! Looking at all which makes us and embracing it more and more! To be present in our environment and move in it and with it!'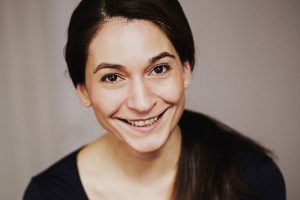 ©Dovile Sermokas