Iphigenia was born in Freiburg in 1978. From 1981 she lives with her parents in West Berlin, where she spends her youth. After graduating from high school, she moves to Athens where she studies drama and works as an actress in television and theatre productions.
In 2006 she returns to Berlin and joins the Alexander Technique teachers training course with Dan Armon and graduates in 2010. She is founder of Simio, Studio for Body coaching in Schöneberg together with Maike Koch.
In 2011 she meets Butoh Artist Masaki Iwana and finds strong inspiration.
She dedicates herself to dance and exploring the body as an instrument of perception and embodiment.
Iphigenia currently lives with her family in Berlin. She teaches the Alexander-Technique and works on her dance in Berlin and abroad.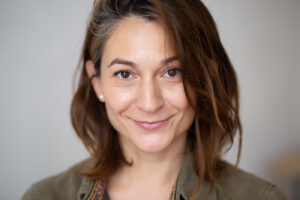 ©Dovile Sermokas